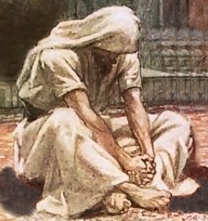 The first book of Chronicles, chapter 21
depicts the story of David's disobedience to God when the king of Israel took the census. Satan tempted David and despite Joab's insightful advice, his ear would be deaf to listen.
David was a man according to Hashem's heart, yet like all human beings, he made mistakes.
Numbering the Israelites was defying the authority of God and the Almighty went angry with His subject. As a consequence the Lord punished Israel.
David soon realized that he had sinned badly before the Eternal's Face and he admitted his sin.
The Lord spoke through Gad who told David:
"This is what the LORD says: 'Take your choice: three years of famine, three months of being swept away before your enemies, with their swords overtaking you, or three days of the sword of the LORD-days of plague in the land, with the angel of the LORD ravaging every part of Israel.' Now then, decide how I should answer the one who sent me." David trusted more in our Lord's mercy than in men, therefore he chose the last punishment. He knew that if he offered a sincere repentance, the Lord would stop the plague.
David interceded for Israel and built an altar to the Lord.
In the end the Lord would speak to the angel of destruction who would put back his sword.
Often we let our pride come forward and have a deaf ear to accomplish our Lord's will. We think of ourselves in first place and become disobedient, neglecting His command. Like a father punishes his child when the infant misbehaves, our Lord corrects us in the same way.
Hashem let David choose between several punishment and David chose to fall into the hands of the Living God rather than in the hands of men. Whatever we have done, let us trust our Lord's mercy, because His anger doesn't last forever. His mercy is immense. When we repent with a sincere heart, He will always welcome us in His arms.
Copyright©2015